Rapid Mixer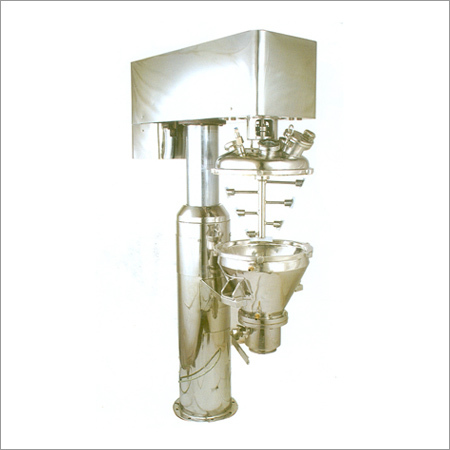 Rapid Mixer
Price And Quantity
Product Specifications
Rapid Mixer

Stainless Steel
Product Description
Conical Rapid Mixer
Promas TM Conical Rapid Mixers are used for intensive mixing for powdery, granular and / or pasty materials. Above products can be mixed, cooled, heated, dried and /orgranulated.
The intensive mixing of the product is effected in a very short time, due to great number of radial elements with paddles to the mixing shaft and very high number of revolutions.
Each element carries one or more mixing paddles at the other end that extended with another end parallel to & near to the inner sidewall of the vessel. The elements are rod shaped & have a large radial dimension, whereas the paddles are plate shaped & have a small radial dimension & are limited to rotating over an angle around the longitudinal axis of the rod for shaped element. The elements consist of knives, of which a part has a variable angle position with the vertical.
Capacity available is 20 Itr. to 1000 Itr.
Working Principle
Promas TM Conical Rapid Mixer is a device for mixing, cooling, heating, drying & granulation for pasty as well as powdery materials. It consists of a conical mixing vessel having a vertical axis, which narrows in a downward direction & has at least one vertical rotating mixing shaft, from which carries a number of radial elements projecting from the mixing shaft and the outer ends with paddles extending close to the side wall of the vessel. Because of the conical shape of the vessel & the rotating paddles, the product moves in the upward direction.

A special feature & advantage of the equipment described above is that it makes use of the unique mixing pattern which occurs in the mixing vessel when it is operated at high speed. The paddles accelerate the product in the direction of the vessel wall & cause the product to swirl. As a result of the conical shape of the vessel wall, the product moves upward by means of centrifugal force. Once the product reaches the upper part of the vessel, where no paddles are present, the product drops down again under the influence of gravity near the center & circulation is established. Finally, the centrifugal force causes a rubbing movement of the product along the inner wall & the friction causes a very intensive mixing of the product.
Trade Information
Cash Advance (CA), Cash in Advance (CID), Cheque

10 Per Week
Contact Us
Promas House, Plot No. R-967, MIDC, 400 701., T.T.C. Industrial Area,Sector 2, Rabale,, Navi Mumbai, Maharashtra, 400701, India
Phone :07506722928