Vibro Sifter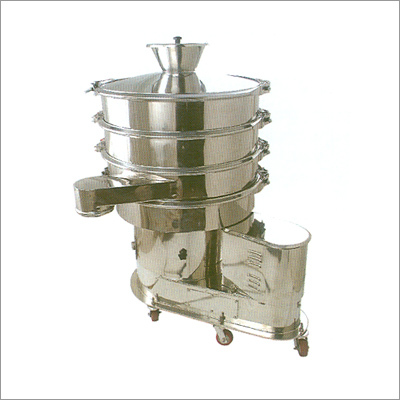 Vibro Sifter
Price And Quantity
Product Specifications
Vibro Sifter

Stainless Steel
Product Description
Vibro Sifter
Applications & Working Principle

Promas TM Vibro Sifter is multi layer screening unit to separate mass composition of solids from solids, liquid from solid and gradation of materials in accordance with their shapes & sizes. Mostly found useful for the applications in pharmaceutical, chemical, food, drug, detergent, etc.
Promas TM Vibro Energy Separator is a rigid screening device that vibrates about its centre of mass. The central vertical axis being the same, vibration is accomplished by placing eccentric weights on the upper and lower ends of the motor shaft. Adjustment of the quantum and relative. position of the top and bottom weight permits control of amplitude and material flow patterns.
Circular scree separators are unitized machines, which impart adjustable, multi-plane, mechanical vibrations to the material being processed. The basic assembly shown in the drawing consists of number of interchangeable frames for retention of screen decks & provision of discharge outlets. A motion generator (Vibro Motor) with double extension shaft having eccentric variable weights is rigidly mounted to the main screening assembly. The assembly is supported on the circular base by specially designed springs, which allow the screen assembly to vibrate freely. The controlled vibrations generated by motion generator are isolated completely from heavy structure. The isolation of spring from support base results in a self-balancing system, which requires minimum power & avoids mechanical stress.

Available in various models, named as PVS - 12, 18, 24, 30, 36, 48, 60 to PVS - 72, the numbers denote the diameters of the sieves in inches. It is a - compact unit for easy operations with all contact parts in AISI 316 and all other parts in AISI 304. Springs amplify vibration leading to reduced electrical power & maintenance cost. The unit can be provided with single deck, double deck or triple deck as per requirements.

Salient Features
Unique working principle
Space required is very less compared to output of machine
Robust structure
Quick & easy screen change
Superbly tight screen minimizes screen clogging
No transmitted vibrations
Perfectly designed vibromotor to generate synchronized vibration to work continuously
Choice of various anti-screen blinding devices & innovative solutions to screening problems
Adjustable vibration amplitude
No special foundation is required
Specially designed sifters are now available for sieve critical products
Available in STD/ GMP/ cGMP/ GAMP/ GLP/ GCP & Lab Models
Online Agitated Vibro Sifter
The sifter is provided with pneumatic / motorized vibrator & a central discharge. The outlet of the sifter is connected directly to the load cell with digital weighing system. The models are available in GMP/ cGMP/ GAMP/ GLP/ GCP & are ergonomically designed for the ease of operation. The sifter is more versatile for online continuous production.

Turbo Sifter
Product is uniformly fed into the cylindrical sifting chamber by means of a feed screw which discharges into a rotating helical paddle. Turbo. Sifters are available in various models.
Unique features
All the screens are fixed in circular square sectional frame with "l" type specially designed sealing.
The mesh is fixed by using jig fixtures, gives maximum tightness to the screen, thus preventing the screen from sagging.
No welding or soldering is used for the screen, it is directly bolted to the frame.
Solid flanges with groove & "0" ring for perfect sealing so as to avoid the leakage ofthe fine dust.
All the sieve joints are Silicon moulded to suit GMP/ cGMP standards.
Operators can be easily trained to fix the screens.
Magnetic Arrester can be fixed at the outlet to prevent iron particles.
Unique quickly openable Vertical Clamp instead of horizontal clamps that does not require the spanner.

Trade Information
Cash Advance (CA), Cash in Advance (CID), Cheque

10 Per Week
Contact Us
Promas House, Plot No. R-967, MIDC, 400 701., T.T.C. Industrial Area,Sector 2, Rabale,, Navi Mumbai, Maharashtra, 400701, India
Phone :07506722928