Jet Mill with Reverse Pulse Jet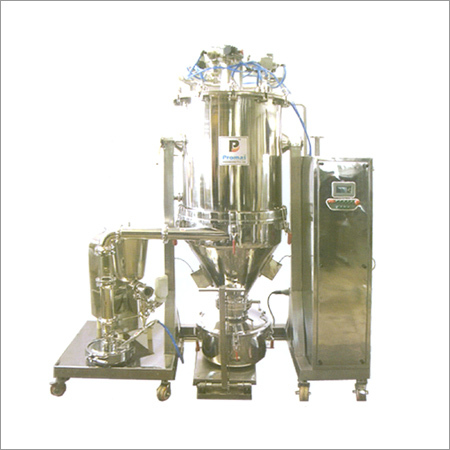 Jet Mill with Reverse Pulse Jet
Price And Quantity
Product Specifications
Jet Mill with Reverse Pulse Jet

Stainless Steel
Product Description
Jet Mill
Applications
We are offering Jet Mills. Jet Mills are widely used in manufacture of drugs and pharmaceuticals, organic and inorganic pigments, optical brighteners, fluorescent pigments, food color synthetic dyes, metal (except malleable metals) carbides & borides, herbicides and pesticides, ceramic glasses, alumina, feldspar, frit, kaolin, mullite, electronic grade materials such as materials required for semoconductors, phosphors, photo- electronic, high temperature critical materials, solid fuels etc.
Working Principle
Jet Milling is a concept of feeding of the powder particles into a flat circular milling chamber and subjecting the same tangentially with pressurized air or nitrogen through a venturi. The powder particles are accelerated in a spiral movement inside the milling chamber by number of angular holes in a ring and placed around the periphery of the chamber.
The heat sensitive and low melting point materials are easily micronized. the micronization takes place due to the collosion between the incoming particles and the particles, which are already accelerated into the spiral path. The larger particles of he product get retained at the periphery of the chamber by centrifugal force and the smaller particles exit with the exhaust air from the central portion of the chamber.
The material can be milled to an average particles size of 0.2 to 5 micron or coarse ground to 400 mesh depending upon characteristics of the product.
Advantages
The micronizing of the powder improves absorption capacity of the drugs in the human body. This also results in new and unusual chemical and physical properties relating to suspendability, solid-state reaction rate, texture, color, absorption etc.
The surface area achieves increase in potency of drugs, which reduces the dosage of the drugs. The polishing powders used for polishing the lenses, computer hard disc or in toothpaste are required to be a narrow particle size distribution for maximum productivity. The abrasives used in these polishing powders are very precisely milled.
Any cosmetic product requiring silky smoothness in application can be achieved in Jet Mill. the reflectivity of light occurs when the particle size of the pigment approaches a precise relationship to the wavelength of visible light. Therefore by controlling the particle size, the product quality & its brilliance can be ascertained.
Promas Jet Mill versions are sanitary, India FDA and US-FDA accepted designs, in line with GMP practices and in accordance with all pharmaceuticals specifications worldwide. The Jet Mills manufactured by us have replaceable internal rings with optimized grinding angles for various products. The design & construction of Promas Jet Mills are the result of many years of dependable, uninterrupted service.
Standard models of Promas Jet Milling equipment
| Model Names | Sizes (inches) | Air Pressure (kg/cm2) | CFM | Output (Approx.kg/hr) |
| --- | --- | --- | --- | --- |
| PJM-2 | 2 | 8-12 | 20 | Upto1 |
| PJM-4 | 4 | 8-12 | 50 | 2-5 |
| PJM-6 | 6 | 8-12 | 75 | 5-20 |
| PJM-8 | 8 | 8-12 | 125 | 15-50 |
| PJM-12 | 12 | 8-12 | 265 | 50-150 |
Trade Information
Cash in Advance (CID), Cheque, Cash Advance (CA)

10 Per Week